A well-designed website is critical for any business that wants to be successful. A professional website design can help a business stand out from its competitors and generate more leads through its website. Unfortunately, many companies do not understand the importance of a great web design and do not invest in one.
Now here are reasons how a good website design can increase your business value:
It Affects the Ranking of Your Search Engine Optimization (SEO)
SEO is all about getting your website to rank as high as possible on Google for keywords people use when looking for products or services like yours. Hiring professionals to create a well-designed website with an excellent user experience is critical for SEO. Here are some reasons why:
1. Having a professional web design will show Google that your website is essential. This will help you rank higher for relevant keywords.
2. A well-built website is easy to understand, optimized for search engines, and easily found by people looking for it.
3. The more pages of content you have on your website, the higher Google will rank your website for relevant keywords.
4. The more signals you have that point to your website, the better your website will rank on Google.
5. Although having many links can help improve your ranking for specific keywords, it is not the only factor Google looks at when determining its rank. Many other things contribute to a site's ranking, such as the quality of the content on your website.
6. Last, search engines value websites that people spend time on. This is where a great website design comes in.
It Allows Customers to Understand What Services Your Company Provides
A professional web design will help customers understand what your business does and how it can help them. Professional web designers know how to communicate this message in a way that is easy for customers to understand.
This is more important than just having text on your website that says, "we sell xyz." It is important to show visitors how you solve problems for people like them and quickly explain the value you provide. This will help you get more leads for your company.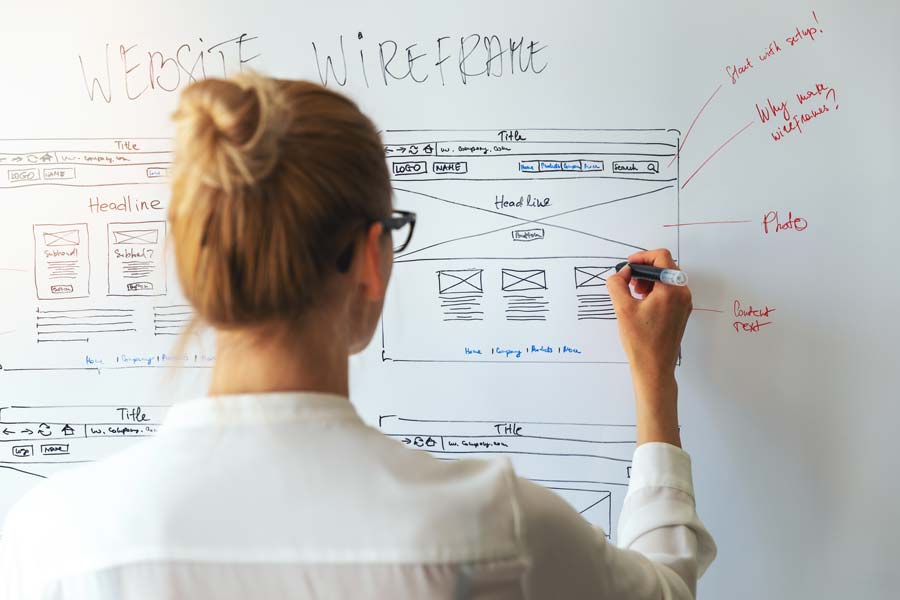 It Allows You to Build Long-Lasting Connections With Your Consumers
A great web design can help your website look more personal, which will make people trust you more. People often judge a company by its website, so it is vital to make a good impression.
Solutions-based marketing is powerful because it builds relationships with potential customers. This leads to increased brand authority and ongoing traffic from search engines due to references made by current clients on social media, review sites, and niche industry forums.
This results in increased sales for your company, making investing in a professional web design worthwhile.
It Aids in the Development of a Rich Customer Database
The more information you have about your customers, the better. This is because you can then communicate with them to make the most of your time and money.
For example, when someone visits your website for the first time, you might send them an email with information on how they can overcome their struggles using similar strategies to clients who hired you in the past (i.e., by communicating what solutions you offer).
It Increases Your Brand Authority
When people trust your brand, they will want to do business with you. This means that you will have more leads. However, it takes time to build up your brand's authority. But when you write articles that use relevant images and video testimonials, you will stand out from the competition.
It Improves Brand Consistency
A great web design consistent with your other branding efforts, like your logo and colors, will make people trust you more when looking for products or services like yours.
For example, if your website does not look professional, people might not take it seriously. This is especially true if other websites look more professional.
However, many business owners mistakenly believe that their competitors are doing PPC campaigns, so they don't need a great web design to stand out on the search engine results pages. This couldn't be further from the truth.
It Develops a Good Client Perception of Your Business
Having a well-designed website can communicate to your customers that you are a successful business and industry leader. This will make them more likely to buy from you.
People who visit your website will think you are not good at business if it looks like a beginner made it. A professional web design is essential because it makes customers trust you more. They will think you have been in business for a long time.
The Best Web Design Service in Ireland
There are many web design Ireland services. It can be hard to decide which one is the best for you. You should think about what you need from a web design service before deciding. Some things to consider are:
1. Look for a company that has experienced and talented designers on staff. This will ensure that you get the best quality design for your home.
2. A good web design company offers various services, including website design and development, search engine optimization, and online marketing.
3. The level of customer support offered is essential. Make sure the company you choose offers excellent customer support, with friendly and knowledgeable staff who can help you with any questions or problems you may have.
When considering these three things, you will choose the web design service that is right for you.
Contact us if you want to learn more about how a website can help your business make more money. We offer a wide range of services that are perfect for businesses like yours in Ireland.
Image: ronstik - stock.adobe.com